Acupuncturist, Kampo Herbalist
Introduction:
A Japan born and UK qualified practitioner in Traditional Acupuncture and Kampo 漢方 – Japanese Herbalism, and also practiced as a yoga teacher and a yoga therapist since 1997. Atsuko practiced in demanding central London clinics for a number of years and more recently found a "home" in Chiswick, West London. ​
"Before I came to London in 1995, I had worked in Banking and also as a Translator/Interpreter between Japanese and English both in Japan and the U.S.A.
Along the way, I lost a sense of 'good health' and started developing stress related conditions. I sought help in ​Acupuncture, Kampo and Yoga then because I had been a patient of and a student of these disciplines since a young age, and I found them extremely beneficial for my conditions once again.
I was very much inspired to learn more about these disciplines in depth and decided to initially get retrained in yoga teaching, in general yoga therapy and in yoga therapy for people living with cancer and cardiac disease.
Later on I continued to study traditional acupuncture, which helped broaden and deepen my knowledge and skills of oriental medicine and therapy. Also, I took an apprenticeship course in Kampo or 漢方 – Japanese Herbal Medicine in London."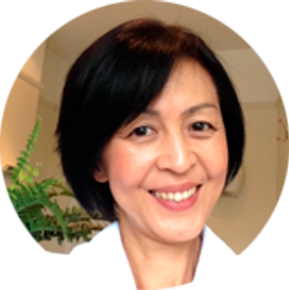 Memberships:
British Acupuncture Council (MBAcC).
Kampo UK.
Special Interests:
Main Qualifications:
Post Graduate Diploma in Kampo – Japanese Herbal Medicine.
Licentiate Diploma in Acupuncture from LCTA.
Honours Degree of BSc in Acupuncture from University of Portsmouth.
Post Graduate Certificate in Cosmetic Facial Acupuncture from CCM.
Additional Studies include:
Master Tung Style Acupuncture and Blood Letting Therapy
Neuropuncture/Electro Acupuncture for Pain Management.
Neuropuncture/Electro Acupuncture for Psyche/Mental Emotional Conditions.
Acupuncture for Infertility and IVF Support.
Understanding and Treating Female Infertility.
Understanding and Treating Endometriosis.
Low Back Pain: Assessment, Red flags and Management.
Others (such as pulse diagnosis, Japanese rice grain moxa, etc.).
Certificate in Cardiac and Cancer Yoga Therapy from Yoga of the Heart®.
Diploma in Yoga Therapy from Yoga Biomedical Trust.
Diploma in Yoga Teaching from the British Wheel of Yoga.
Facial rejuvenation acupuncture.